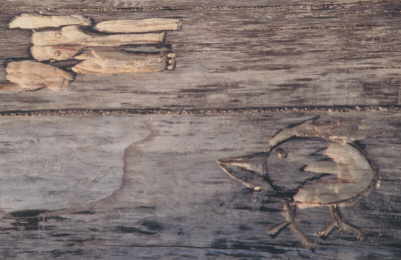 June 22, 2002: Last day of the Breathwork exhibition. Kids from a church picnic were playing on my log when I arrived so I just started carvng the fish on a different log: the slender tree that was my first choice but is being gradually used in bonfires. Then the kids came to see me and started drawing on the log. I carved as many of their drawings as I could before dark.
The parents sent over gifts of pop. A beautiful elder talked to me, offered to give me an Indian butterfly pin. The kids also wanted me to draw this ant.
The on-site exhibition is over. But I am going to continue visiting through the summer. I'll work on the carving until I feel satisfied with it as a gift to leave to this beautiful place. Toronto has always contained many little wildernesses, and people and organizations work hard to fix some of the land we've ruined, and give it back to the animals. Incredibly, when a lakeshore that has been used as a dump is rehabilitated, or an old quarry replanted, that sweet land is also given back to people.